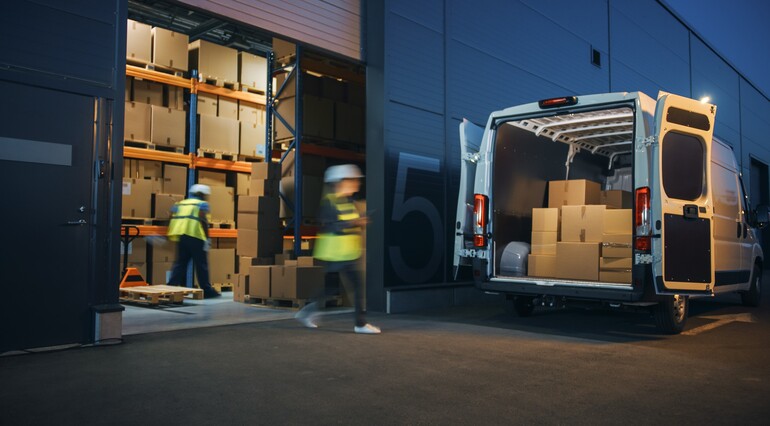 Last mile logistics
Accelerating last-mile delivery with an urban warehouse
The urban warehouse has become key to providing a flexible logistics service in urban centres. This facility is a logistics centre located close to or within cities, with the objective of being close to customers and delivering orders within a short timeframe.
In this article we analyse the emergence of urban warehouses, explain their role in the supply chain and, more specifically, how they are designed and organised to achieve maximum logistical efficiency in these facilities.
Characteristics of urban warehouses
Urban warehouses are order storage, picking and distribution centres located in (or near) major cities to facilitate ultra-fast deliveries, one of the pillars on which e-commerce is based.
E-commerce requires flexibility in warehousing operations and the need to limit transport, picking and logistics costs to meet consumer demands. The growth of e-commerce is one of the main reasons why urban warehouses have become a more important part of today's supply chain.
Urban warehouses are distinguished by their strategic location for the company, situated between the distribution centre and the majority of its customers. Generally linked to e-commerce and B2C trade, these facilities handle a high volume of small orders (in totes, trays or individual packages). The shortage of urban land is forcing companies to consider solutions that optimise warehouse resources and ensure efficient last mile logistics deliveries.
However, these facilities are not just for e-commerce companies. Urban warehouses can be used by companies in the pharmaceutical sector, food industry or by physical retail shops with a high level of demand. For example, micro-fulfillment solutions in cities are very popular in the retail sector, or dark stores which are warehouses located in urban areas from which omnichannel orders are delivered to their customers.
How to design and organise an urban warehouse
The layout of an urban warehouse is determined by whether it is located near or within cities. The small amount of storage space available and the increasing cost of the square metre of logistics in urban areas are the reasons why companies needing more space expand vertically, thus optimising the storage capacity of the facility.
The urban warehouses act as a buffer zone, storing goods received from the distribution centre and sending them directly to the end customer.
Advantages and disadvantages of urban warehouses
Urban warehouses are the ideal solution to ensure compliance with e-commerce logistics standards: shipments in 24 hours or less and product returns are facilitated. These facilities bring requested products closer to the customer, helping to manage their return, if necessary, so that it is quick and efficient and limits transport costs. A recent study by the consultancy firm Deloitte, which looked at the urban distribution of goods in New York, shows that the establishment of warehouses in cities helps to reduce the transport costs of each order. As the Deloitte report points out: "In terms of last-mile delivery costs, having a warehouse in the city is a more important competitive advantage as the time frame for order delivery is shortened (from same-day delivery to delivery within hours)." According to the study, investing in an urban warehouse would be at least 22% more profitable. Why? These facilities reduce the extra costs of last-mile logistics by allowing the efficient organisation of order dispatch according to transport routes, shortening delivery times and optimising the order route.
City warehouses are key to providing an excellent omnichannel shopping experience: the facility is able to process e-commerce orders, offer a BOPIS and BORIS service (online purchase, in-store pick-up and online purchase, in-store return) and replenish physical shops located in the city within 24 hours.
A module such as Multi-Carrier Shipment Management and Preparation groups orders by transport routes, thus speeding up deliveries in the city
A module such as Multi-Carrier Shipment Management and Preparation groups orders by transport routes, thus speeding up deliveries in the city
The strategic location of the urban warehouse is also important in reducing the impact of returned orders on the business: items are returned to the facility to be temporarily stored or added to other orders already released, all without having to ship the goods out of town.
However, the establishment of these warehouses in the company's logistics involves a significant investment, since the cost of the logistical square metre increases as the warehouses approach the major cities.
In a context of increasing order management and the difficulty of acquiring more logistical square metres, the solution lies in building high and implementing storage solutions that compact the goods and take advantage of the maximum capacity of the facility, such as automated warehouses.
In short, urban warehouses are a possible solution to the increased costs of managing e-commerce orders. In any case, each company must assess the benefits of redistributing part of its logistics and locating in cities, because being closer to customers and reducing delivery times also means higher storage costs.
Urban warehouses: a success factor for the last mile of logistics
A study by the consultancy firm Capgemini shows that if last-mile operations are not strengthened, this can lead to profit reductions of up to 26%. One solution to mitigate the effects of this logistical stage is to centralise all or part of the shipping stages as well as the management of returns in warehouses close to the cities.
These facilities bring products closer to customers, reduce transport times and facilitate both ultra-fast delivery of orders and free product returns, two fundamental premises of e-commerce.
Interesting articles and information: https://www2.deloitte.com/content/dam/Deloitte/us/Documents/process-and-operations/us-urban-fulfillment-centers.pdf
https://www.capgemini.com/wp-content/uploads/2019/01/Report-Digital-%E2%80%93-Last-Mile-Delivery-Challenge1.pdf
https://www.mecaluxbelgique.be/ offers solutions to improve the efficiency of your warehouse through optimal space management.
Source Mecalux