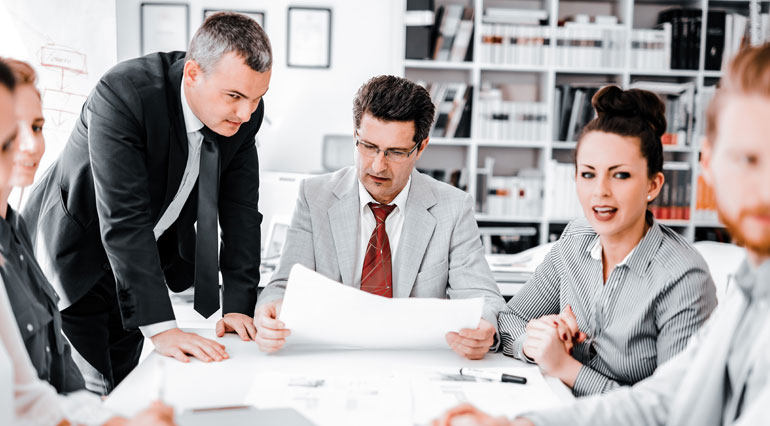 Lease renegotiation - 4 lease negotiation tips
Lease Renegotiation - 4 Lease Negotiation Tips
You lack perspective and knowledge!
When negotiating an office lease, the odds are often stacked against the tenant because the landlord knows the market and its potential.
After all, landlords want to get the best return on their real estate investments. They set high monthly rents and include essential conditions that promote the proper management of their assets.
However, you can negotiate almost any clause in your real estate lease. This is especially important if you don't want to make mistakes that could derail your business. Negotiating the right terms can have a positive impact on your business in many ways.
While lease negotiations take time and cost money, turning the terms to your advantage is not difficult to do. We know that negotiating an office lease can be tough at first, which is why we've compiled lease negotiation tips from professional tenant representatives.
Read carefully
Beware of the fine print.
Professional leases often have complex clauses and large amounts of information to analyze. It is therefore essential that you read the fine print: the devil is in the details.
When seemingly minor points are overlooked, they can easily become major concerns later.
Look carefully at non-competition clauses.
Non-compete clauses can be great for you if they limit other tenants, but they can really limit your ability to do business when they apply to you.
Put it in writing
Always put your negotiations in writing in detail, you will avoid any misunderstandings. Plus, when the landlord knows what you want, he or she can easily accommodate your requests.
When work is to be done, demand specifications and execution plans.Seemingly insignificant items can have a significant impact on the overall economics of a lease. For example, adding four little words - "capped at 3%" - to the language describing annual inflationary increases in a lease can prevent your company from seeing its costs skyrocket if the inflation of the 1970s and 1980s returns. This is one area where an attorney can be a useful adjunct to your agent in lease negotiations.
Shop around
When you shop around, you are able to learn about average market rents in the area and discover other spaces that may be more suitable for your business.
Even if there is only one perfect space for you, the key to getting the best deal is to create competition for your rental. Knowing what other landlords are offering helps you evaluate what rental terms to ask for in your bid for the space you want. It also creates some fear of loss on the part of your landlord by letting them know you might be going elsewhere.
Do the math
It's essential that you carefully consider all the ancillary fees you'll be paying to ensure that the total cost fits your budget.
In addition, it is also important to know that your rent will not be based solely on the amount of square footage you will occupy, but also on the portion of square footage you will share with other tenants. Your landlord will use the common areas to determine how much square footage to rent. It is important to ask for the details of the calculation to ensure accuracy and fairness.
Also, don't hesitate to ask about any future increases in the base rent and ancillary fees.
Look at the total cost
Charges and taxes can add up to 50-100% on top of your base rent. This is the total financial package you need to consider.
Consider hiring a Tenant Rep
If your company doesn't understand the market and lease negotiations or doesn't have someone with the time to handle the negotiation, you should consider hiring a professional agent who can help you get the best deal.
A tenant representative works solely with the tenant and provides impartial advice. Having a Tenant Representative on your side can improve the outcome during the negotiation process. We understand the market, and we can show you hidden opportunities.
We have extensive knowledge of the real estate market. In addition, we use several tools to analyze the market and determine if an area or even a building is suitable for your business needs. By working with us, you don't have to worry about market research and lease negotiations.