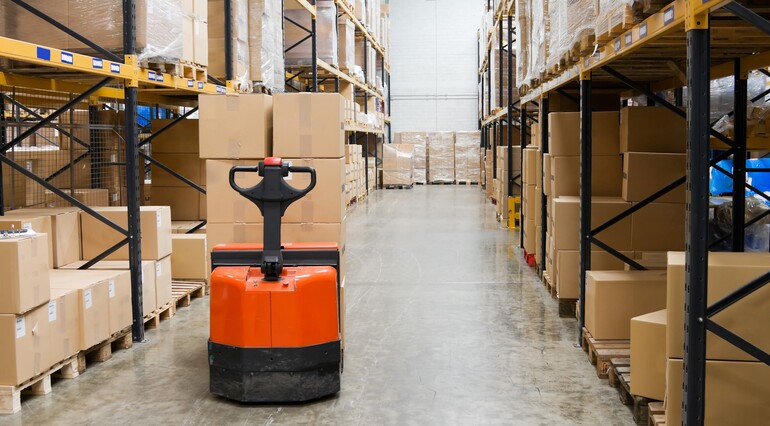 Warehouse modernisation
The modernisation of a warehouse and its associated storage technology is a task that needs to be well planned.
Themes:
WHAT IS AN UPGRADE?
WHAT AREAS ARE COVERED BY THE UPGRADE?
WHAT QUESTIONS SHOULD COMPANIES ASK THEMSELVES?
A NEW WAREHOUSE FOR LITTLE MONEY?
ADVANTAGES AND DISADVANTAGES OF MODERNISATION
It is not only people who are getting older, but also logistics, intralogistics, warehouses and the associated storage technology. Warehousing technology is not only wearing out, it is also becoming obsolete and can no longer meet the corresponding modern requirements, e.g. with regard to turnover rates. People often wait too long before modernising for reasons of convenience or cost. However, the availability of the warehouse or storage technology decreases over time due to failures and the system costs increase disproportionately. You should therefore consider planning modernisation in good time, i.e. some time before the end of the life cycle of the system or individual components.
What is an upgrade?
As a rule, the boundary conditions of a company's business change over time. Changing markets, products and customer requirements mean that an original system is no longer modern after a few years. Modernisation offers the opportunity to adapt intralogistics systems to new requirements and to make them more efficient and reliable. This usually means that the basic structure of a warehouse remains the same (storage areas, layout, conveyor and storage systems), but that by modernising the individual components, new organisational processes, increased performance and better availability of the facilities can be achieved.
Upgrading is therefore the refurbishment and modernisation of old, mainly automated systems (intralogistics and logistics). Many of the electronic and mechanical components of such a system have reached the end of their service life, the production of control systems is discontinued by the manufacturers and spare parts are no longer available. There is a risk that the systems can no longer be maintained and will fail permanently. While mechanical or static components and the steel structure often have not yet reached the end of their life, this is often the case for dynamic, control and IT systems.
What areas are covered by the upgrade?
Modernisation can cover the whole warehouse or only certain areas. Companies most often modernise order picking processes (e.g. the introduction of voice picking), goods-in and goods-out storage, and IT or software. In addition, goods tracking, coordination and crossdocking will be upgraded. Of course, facilities, components and processes must be modernised in line with current requirements to ensure sufficient security and optimum productivity. In some cases, modernisation of warehouses can even prevent the construction of new warehouses or the expansion of storage capacities if the old facility offers sufficient optimisation potential. These modernisation measures often focus on control hardware, transmission systems and sensors or software, e.g. as a priority for stacker cranes.
What questions should companies ask themselves?
The important questions for an entrepreneur to ask are the following:
Does my warehouse or storage technology still deliver the expected performance in terms of turnover, warehouse utilisation, storage costs, productivity, etc.?
One of the most important measures of performance is productivity. It describes the relationship between performance and effect, for example the ratio of hours worked to the number of items picked. This can tell a lot about the performance of the picker and the picking system.
Do warehousing processes still meet today's requirements for speed, omnichannel logistics, e-commerce and small order volumes? Due to the rapid development of e-commerce, the demands on order picking processes and warehouses, for example, are constantly increasing.
It also quickly raises the question of whether the warehouse management system, the warehouse organisation and the software are still 'state of the art'.
Are all spare parts for storage technology still available, e.g. for conveyors, stacker cranes, industrial trucks, etc., or do they need to be modernised? What are the maintenance and repair costs? Are the costs of purchasing parts and maintenance/repair within reasonable limits?
Does the use of AGVs make sense?
A new warehouse for little money?
Of course, modernisation does not create a new warehouse, but it does modernise it and extend its life. The project involves investment, detailed design and advance planning. New components must be adapted to those that will be retained. Care must also be taken to ensure that the retained components are not overstretched by the performance of the new components and do not subsequently fail.
Advantages and disadvantages of modernisation
The benefits of retrofitting are lower planning and implementation costs than those of a new purchase or construction. The risk or probability of failure compared to a complete new warehouse installation is also reduced. Modernisation saves resources and employees can continue to work in the old structures wherever possible.
However, it is essential that the conversion is carried out during the activity. Some of the old components remain on the premises and may also fail more frequently in the future. Another disadvantage is that it is not possible to fully adapt to any future changes in the framework conditions.
Modernising a warehouse is a task that requires careful thought and long-term planning. The implementation of measures during ongoing operations must also be planned precisely so that warehouse operations are not disrupted or even interrupted.
Source Bito Systems