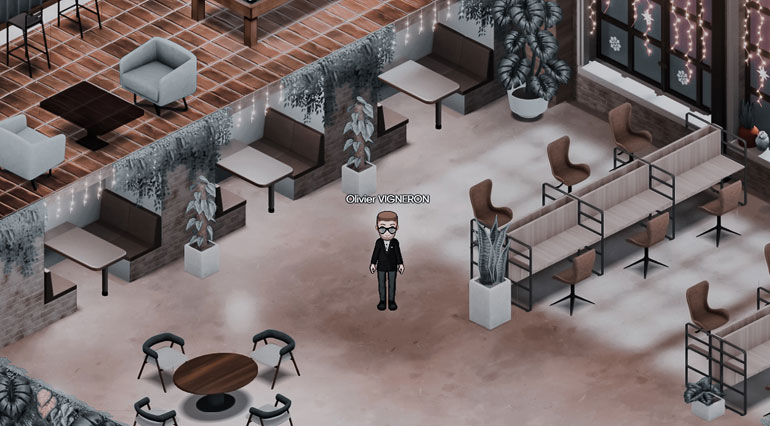 The Metaverse? What is it?
Le Metaverse:
What's this?
Here we are!
Want to talk about it over a virtual drink?
The metaverse, the vaccine (oops) against teleworker's disease?
Imagine a digital world where you could conduct your professional life from where you are, without even leaving your home...
A metaverse is a fictional virtual world. The term is regularly used to describe a future version of the Internet where virtual, persistent, shared spaces are accessible via 3D interaction1.
A different definition considers "the metaverse" as the set of virtual worlds connected to the Internet, which are perceived in augmented reality2.
More seriously, we believe that it is also the beginning of a new form of communication in professional relationships.
What does this mean for the future of business?
According to JustBusiness.fr, the metaverse still divides people. For some, it is just a fad, but hundreds of independent projects are already being created every day in search of potential investors linked to blockchain.
It must be said that the dream is becoming reality now that virtual reality headsets are powerful, and computers can handle so much data. In the professional environment, they offer the possibility to conduct remote meetings between employees while having the impression of being in the same office. The metaverse is therefore likely to encourage telecommuting, which has already grown massively in recent years.
One thing is for sure, big companies like Meta (Facebook) and Microsoft are investing billions in it. Big brands like Nike or BMW are creating virtual commercial spaces.
According to Alexandre HAPTEL, about the metaverse and telework
Meetings, in a multi-site context, could take advantage of the current VR technology and thus facilitate their holding within the "metaverse".
Decision-makers were confronted with the limitations of telecommuting as it is currently practiced, and in particular with the documented phenomenon of "Zoom fatigue" among telecommuters. The "metaverse" would be a credible alternative with the objective of improving engagement and productivity within meetings. Indeed, a meeting conducted in VR in a virtually reconstituted meeting room would be closer to reality than the simple videoconference as it is currently practiced.
Finally, there is no need to organize long trips to bring together all the participants. At a time when the health context is impacting employee travel and companies are looking to reduce their carbon footprint, the relevance of this type of meeting is questionable.
So, if you can't teleport, are you ready to "metaverse"?
For us it's yes! The B2B team is already in the metaverse, we have created the first entirely virtual B2B agency, where you can meet our agents and make an appointment.